DARN Adopt-A-Family 2021
Due to COVID-19, we made adjustments to our annual Adopt-a-Family program. We were unable to deliver physical gifts, so this year we served our families by providing gift cards to their chosen locations. This holiday season, DARN served 116 children, representing 47 families! We had 72 donors who sponsored at least 1 child this season and 19 donors who provided gift cards and/or gift wrap! Thank you to everyone who donated - big or small.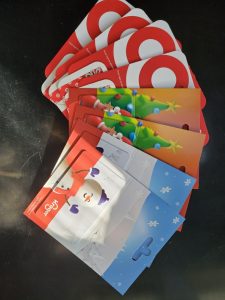 DARN 2nd Annual Clothing Drive a Success
DARN collected winter gear (e.g., jackets, hats, gloves, and boots) along with gently used and laundered clothes of all sizes on Friday, November 30th and Saturday, December 1st, 2018. It was a success as people dropped off clothing to DARN volunteers at two different locations, Montrose Elementary and Jeffrey Mansion.
In support of the Bexley Middle School camping trips, DARN also collected sleeping bags, rain boots, and rain jackets.
DARN would like to thank the Bexley Community for going through their wardrobes and seeing what they could pass forward for others in need, as well as the volunteers that help to collect and sort the clothing for distribution.
DARN Volunteer Profile: Ken Grace
Mr. Ken Grace has been helping DARN for several years with an initiative that we consider one of our most successful. It perfectly reflects our tagline, "Using community assets to meet community needs," and exemplifies the model that DARN set out to build when it began in 2004.  
A bicycle enthusiast and skilled repairperson, Mr. Grace supervises the repair of donated used bicycles in all shapes and sizes that DARN distributes according to references provided by Bexley City School District counselors. The bicycles that we collect and Mr. Grace repairs go into the community and help students get to summer activities – often on scholarships provided by the Bexley Recreation Department – and summer school classes provided by the school district.
Mr. Grace's ingenuity and passion have extended the bicycle project into the arena of service learning and mentoring as well. He teaches skills to Bexley Schools' students who assist him with the repairs. He helps staff the Bexley Middle School Community & Service Days three times each year, joining teacher Chevy Sidel in the Cassingham Complex workshop where students replace tires, tune up gears and make used bikes "road ready."
This spring, Mr. Grace helped DARN collect gently used bicycles at the Community Clean Up, service dthem and then distributed them at the Ferndale Mayfield block party organized by DARN. With help from the City of Bexley, Bexley Recreation and the Bexley Police Department, we gave away 60 bicycles, along with helmets, training wheels, locks and licenses.
The bike project opens up horizons for Bexley students in need – offering avenues to transportation, productive activities, learning, pool, and play. In honor of his work, Mr. Grace has been named Bexley's 2016 Citizen of the Year.